USA Today Special: 10 great coworking studios to mix travel and work
Although "working vacation" might sound like a contradiction, more Americans are taking them. A recent study by Travel Leaders Group shows that nearly two-thirds of those surveyed admit to checking in with the office while on holiday. If this sounds like you, there's no need to hole up in a hotel business center or fight for an open plug at Starbucks. Many coworking sites — flexible office spaces catering to freelancers, contractors and gig-workers — welcome travelers, says Chris Cooley, who runs thecoworkconsultant.com. Some offer amenities like standing desks and even craft beer tastings. "It's not the typical office environment, but all the pieces are in place." He shares some favorite spots with Larry Bleiberg for USA TODAY (rates vary by location, check websites for pricing).
Creative Density
Denver
This six-year-old working space, located near a booming dining district, has become popular with new city residents eager to expand their social and work circles, making it perfect for travelers. The homey setting features two fireplaces, and outdoor patio workspaces. It also has a strawberry patch for summer snacking, and a yard equipped with games. densitycoworking.com
BizHaus
Marina del Rey, Calif.
Southern California has plenty of freelancers and gig workers, and this multiple-location coworking space knows how to cater to them. Cooley says he's struck by the sense of community. "They're full of friendly locals, and knowing that there are people to talk to will expand your travel experience." bizhaus.com
Studio IX
Charlottesville, Va.
Thomas Jefferson got a lot accomplished in this historic college town on the edge of the Blue Ridge Mountains, and so do coworkers. This spot, located in an "art park," doubles as a gallery, and hosts community gatherings like after-hour poetry readings, bluegrass brunches and even morning meditation. With a café serving lunch and gourmet doughnuts, visitors have easy access to eats. Later this summer, it plans to open a sister site on the city's downtown pedestrian mall. studioix.co
Centrl Office
Portland, Ore.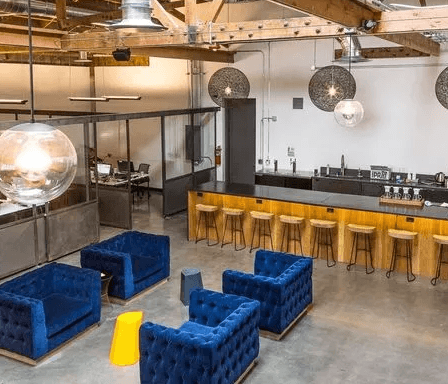 Visitors can get a literal taste of Portland with complimentary pour-over coffees made from locally roasted beans. The two-location office also partners with a catering company that delivers meals by bike, and it keeps things affordable for visitors, offering half-day passes. For those planning to travel beyond the city, it has connections with coworking spaces in Astoria and Hood River. centrloffice.com
The Warehouse
New Orleans
Even if it's a party town, you still might need to get some work done during a visit to New Orleans. Cooley says this former cotton processing plant in the Bywater neighborhood is where to do it. "It's a really eclectic neighborhood and they've embraced it. The space is cool, and the people are great," he says. "They do yoga classes, and have a Zen fountain." workatthewarehouse.com
NGIN
Cambridge, Mass.
This all-inclusive workplace near Harvard and MIT offers unlimited organic snacks to fuel the creative process, along with free printing and private phone booths equipped for international calling. Other highlights include Smoothie Tuesday, Pancake Wednesday, Wine & Cheese Thursday and Beer Cart Friday. nginworkplace.com
Eco-Systm
San Francisco
Located in the bustling SoMA neighborhood, this Bay Area workspace has ties to the arts community, partnering with a nightclub and a gallery. Its open, airy design includes a treadmill desk, and Wi-Fi-equipped rooftop deck. Located near BART and transit stops, it also offers food delivery to your desk, and hosts a weekly visit from a masseuse. eco-systm.com
Tampa Bay WaVE
Tampa
While the family enjoys the Florida Aquarium, Mom or Dad can pop into this downtown workspace not far from the city's cruise port, Cooley says. A top-floor café and balcony offers a chance to kick back between emails and calls. tampabaywave.org
Link Coworking
Austin
In a city overflowing with coders and tech workers, this place offers an ideal spot for remote working. It also provides first-timers a free day pass, a welcome perk for visitors, Cooley says. And if you're lucky, you might visit on the day it offers free pancake breakfasts, a monthly perk. linkcoworking.com
Cowerks
Asbury Park, N.J.
If your Jersey Shore getaway must include some screen time, Cooley recommends stopping by this spot in Bruce Springsteen's hometown, which is convenient to both New York City and Philadelphia. The community offers regular coffee networking events, along with lunch and learn sessions, classes and workshops. "It's just blocks from the ocean in a beach town undergoing a massive revival." cowerks.com