Our Review of Video Conferencing Apps for Teams
As we adjust to life with COVID-19, and the changing nature of work, it's hard not to notice the dramatic rise of video conferencing solutions. No place is this more evident than at CENTRL's own workspaces, where we have seen our members make the transition to video conferencing for holding meetings, sharing ideas, and checking in with their remote co-workers. There are a ton of video call apps out there—and it can feel overwhelming to parse through them all. With this in mind, and after taking stock of the tools we see our members using every day, we decided to share a rundown of video conferencing apps that consistently work well and also meet the specific needs of their users.
What makes a great video conferencing app?
Video conferencing software does more than just show your face to the world. Whether you want to huddle with an off-site co-worker or put a morning standup meeting on everyone's calendar, a good video conferencing app should make it easy to create a meeting link or dial-in number, share it with others, and add more people to in-progress calls.
These apps should include features that let you collaborate, such as screen sharing, annotation or whiteboarding, and live chat. They should also be reliable, meaning you should have consistently clear calls that don't drop or get choppy. Of course, any video conferencing software will require reliable high-speed internet access, which is available to all members at every CENTRL location.
Keep in mind that some of these apps are offering special pricing due to COVID-19, so be sure to review each app's site to confirm their pricing.
Why you'll enjoy video conferencing at CENTRL Office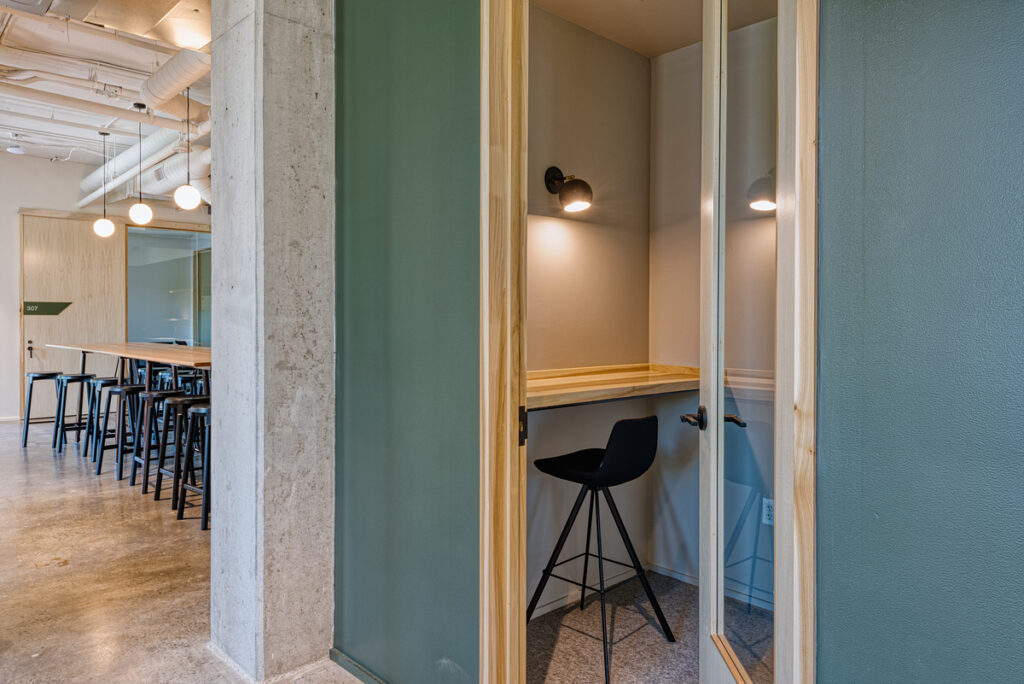 Whether you are in a face-to-face meeting or a video conference, being in a comfortable setting goes a long way toward building better partnerships. That's the philosophy behind our elegantly designed workspaces, which feature private offices, conference rooms, and breakout rooms, which are equipped to accommodate all of your video conferencing needs. Whichever space you choose, you're also going to enjoy great lighting, a cool backdrop, privacy, a cushy chair, and high-speed Wi-Fi. We make it easy to book our rooms and we also offer flexible membership models so you can plan your days at CENTRL around your video conferencing schedule.
Best app for big groups & organizations
Compatibility: Windows, macOS, iOS, Android, Web
Pricing: Free for up to 100 participants for 40-minute meetings; from $14.99/month per host Pro plan which includes unlimited meeting length and reporting.
You've no doubt heard of Zoom, the ubiquitous choice for work-related meetings, primarily due to its stability and reliability. Once you install the Zoom app, you can host free 1:1 video calls with no time limit and group calls with up to 100 people for up to 40 minutes. Paid plans let you chat with up to 1,000 people at once, plenty for almost every situation. For government and healthcare use, be sure to look closely at Zoom's offerings for those sectors.
5 things we like about Zoom:
Offers unlimited cloud storage so teams can share many files and record as many meetings as they want
Automatically generates cloud recording transcripts (Business & Enterprise plans only)
Allows meeting organizers to send custom emails to invite team members to a group meeting
A virtual background feature to hide distracting clutter in the background
A Zoom Scheduler Extension is available that enables you to schedule meetings directly from your Google Calendar
Best app for medium size companies
Compatibility:Windows, macOS, Linux, iOS, Android, Web
Pricing:From $9.99 per month per host, which includes unlimited 1:1 & group meetings.
BlueJeans Meetings is an easy-to-use app for teams who just need to meet, whiteboard, and screen share. It also features Dolby-powered directional audio, which provides a greater feeling of presence in your meetings. BlueJeans also features a robust command center which allows you to track and manage all your videoconferencing activity via meeting data metrics, charts, and graphs.
5 things we like about BlueJeans:
The universal interoperability feature removes technical barriers between computers and conference rooms so with the software you can connect from anywhere at any time
With multi-party video meetings feature, around 5,000 participants can interact in events and webinars
Great for sharing HD content and videos with all the participants simultaneously
This global cloud service offers scale and flexibility for teleconferencing
Supports single sign-on integration along with Google calendar and Outlook for easy scheduling
Best app for integrating with G Suite
Compatibility:iOS, Android, Web
Pricing:Free for up to 100 participants and up to 60 minutes; from $6/month as part of G Suite Basic for business teams.
Google Meet (formerly Hangouts) is integrated with Google's other apps. This means whenever you create a meeting in Google Calendar, you'll get a Meet link that you and your invitees can click to join a call. During the call, you can also find files from Google Drive and Apps and share them in chat, without leaving the conference. You can even start a call directly from your Gmail inbox.
5 things we like about Google Meet:
Includes live captioning (currently detects English only)
Hosts can share digital presentations, plus any documents, spreadsheets or other files they want those in the meeting to see
For participants unable to attend via a video feed, they can join by the phone number provided
Enterprise plan users can record and automatically save meetings to the host's Google Drive and in the Google Calendar event
Ability to improve user experience with Google Meet hardware, which includes a wide field of view camera and an all-in-one speaker & microphone that's designed to reduce echoes and manage background noise
Best app for professional features
Compatibility:iOS, Android, Windows, macOS, Web
Pricing:From $14/organizer/month for a Professional plan for up to 150 participants.
GoToMeeting offers all the features you'd expect from a video conferencing app aimed at professionals, including call recording, dial-in numbers (where GoToMeeting calls you rather than you dialing in), and HD video for up to six participants. It also allows you to monitor your audio levels so you can see exactly how loud you are on the call.
5 things we like about GoToMeeting:
A 'Smart Meeting Assistant' feature, enabling users to easily search and share transcripts of recorded meetings
A 'Business Messaging' feature that allows users to chat with people both inside and outside of the company
Available for Linux and Chromebook, in addition to Mac and PC
Includes a 'Toll-free Option' which helps you join meetings through OpenVoice
It works in 9 different languages including German, French, Dutch, and English
The favorite app of the team at CENTRL Office
Compatibility:iOS, Android, Windows, macOS, Web
Pricing:Free for calls with all main features. They also have a Business plan, starting at $15 a month, which gives you a local number, plus other features.
On top of the above mentioned video call tools we've seen other teams in our spaces use, we've had a great experience with UberConference. We've found it to be an efficient conference calling tool for managing our teams, which are spread out over different locations in three cities. It's a highly portable platform that's easy to customize, and is integrated with G Suite, which we rely on.
5 things we like about UberConference:
Uberconference also integrates with Slack, Evernote and Dropbox
The free version is ideal for smaller teams, hosting up to 10 people per conference
You can record the meetings and archive it later
Users can choose a file or a window to share instead of their full screen, preventing desktop notifications from popping up in view of other participants
There is no storage or time limit for this cloud-based software's users
Conclusion
It's clear that web-based video conferencing tools are here to stay beyond COVID-19, as they are offering ever increasing levels of connectivity and reliability. Whatever video call solution you choose, also consider the space you use it in. If you have questions about how to take advantage of CENTRL for your video conferencing needs, please let us know.